---
Brian Donnelly's work acts to settle his own selfish whims, while exploring art and art culture through representational painting.
Inspired by books like "The island of Dr. Moreau" and "Frankenstein", his aim is not to recreate works based on fiction, but to create his own vision of cruelty.
He models himself after the hap-hazard doctors of fiction, substituting his scientific practice for his artistic practice, and in doing so, he has become a fierce and unforgiving editor of his images; the antagonist of his own creations.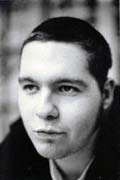 born in 1979 in St. Catherines, Ontario
lives and works in Toronto, Canada
Education
Graduat "Drawing and Painting"
Ontario College of Art and Design
Exhibitions, Publications, Awards
| | | |
| --- | --- | --- |
| 2010 | Affordable Art Fair (AAF), Brussels | Group exhibition at stand G5 of Leslie's Artgallery |
| 2009 | Good Vibrations, San Francisco | Group exhibition "April Flores Toy Project" |
| 2009 | Show & Tell Gallery, Toronto, Canada | Solo show "BLASPHEMIES, MONSTROSITIES, & OTHER PERVERSIONS" |
| 2009 | Espace G, Strasbourg, France | Group exhibition "UN PEU DE LUX ..." |
| 2009 | Juxtapoz Magazine, june, issue 7 | Featured artist |
| 2009 | LeBasse Projects, Los Angeles | Group exhibition "Vous Avez Eté Juste Servi" |
| 2008 | Blurb, ArtBook of Leslie's Artgallery | Featured Artist |
| 2008 | In My Bed Magazine, issue 2 | Featured Artist |
| 2008 | Jack Fischer Gallery, San Francisco | Art Fair "Aquaart Miami" |
| 2008 | Cerasoli - LeBasse Gallery, Los Angeles | Group exhibition "Gifted" |
| 2008 | Studio Nine Gallery, Toronto | Group exhibition "Embody" |
| 2008 | Leslie's Artgallery, Bridel, Luxembourg | Solo exhibition |
| 2008 | Magenta Publishing for the Art, Toronto | Carte Blanche, Vol. 2 - Painting |
| 2008 | T.I.F.S.U.G. Peterborough, Canada | Art show STRANGERS |
| 2008 | Gallery 1313, Toronto, Canada | Group exhibition SEX & EROTICA |
| 2008 | Thinkspace Art Gallery, Los Angeles, USA | Group exhibition Fight for Flight |
| 2008 | The House of Tate Online Art Magazine | Featured Artist; Issue 5 |
| 2007 | Moloko+ independent pdf art magazine | Featured Artist; Issue #3 |
| 2007 | Christopher Cutts Gallery, Toronto, Canada | Summer Splash; group exhibition |
| 2007 | Leslie's Artgallery, Bridel, Luxembourg | "Young Emerging Artists" group exhibition |
| 2007 | Stride Gallery - Calgary, AB | Said and Done; group exhibition |
| 2006 | Papertigermedia.com,Vol2,2006,#021 | Interview : Anything I like |
| 2006 | The eXTra finGer blogspot | Interview |
| 2006 | Antisocial Gallery - Vancouver, BC | Return to the Real; group exhibition |
| 2005 | James Baird Gallery, St. John's, NL | I am; Good in Bed; group exhibition |
| 2004 | Mind Control Gallery, Toronto, ON | Efficiency 2; group exhibition |
| 2004 | Maple Leaf Tavern, Toronto, ON | Group exhibition |
| 2003 | Gladstone Hotel, Toronto, ON | Eazy Money; group exhibition |
| 2003 | Mind Control Gallery, Toronto, ON | Efficiency; group exhibition |
| 2003 | O.C.A.D. Toronto, ON | Street Party; 88th annual exhibition; 6th annual drawing & painting exhibition |
| 2003 | SPIN Gallery, Toronto, ON | Go West! ; group exhibition |
| 2003 | Gallery 61, Toronto, ON | New paintings ; group exhibition |
| 2003 | The Beverley Tavern, Toronto, ON | Paintings by ...; group exhibition |
| 2002 | Takao Tanabe Scholarship | Bourse |
| 2002 | Takao Tanabe Scholarship | TL Pro Imaging Prize |
| 2002 | Gallery Art System, Toronto, ON | The destro(yers);dance..dance..dance; group exhibition |
| 2002 | O.C.A.D. Atrium Gallery & Cafe, Toronto | Just wrong; group exhibition |
| 2002 | Mind Control Gallery, Toronto, ON | Solo exhibition |
| 2001 | Gustav Weisman Memorial Award | Award |