---
Painter of contemporary women
Cédrix Crespel is a busy artist who continously prepares new exhbitions : Paris, Strasbourg, Lille, London, ..., now Luxembourg, and afterwards Brussels and Birmingham. In his atelier in Guérande, France, the veneer of red stiletto heels is the dominant color.
The pressure and urgency are components of his artistic process. This is something he has understood by defining it.
"Initially, I drew so academic. It was well done but it was useless, it was an image without personality. I needed to know who I am to translate my paintings in a classical form. My directness means flat pictures. My strong character means pigmentation without dilution. And I like working quickly and clean. Therefore I started with the computer".
At the beginning Cédrix Crespel worked from photos or from scans to edit the drawings on large canvases. He abandoned this process now he knows the gestures. His paintings are very graphic, whith flat areas and precise contours. The stroke of the painter is invisible.
This cool perfection contrasts perfectly with the theme of the paintings featuring women with super-sexy high heels.Two or three models inspire him this universal woman both submitted and dominant. For the group show last year in London he painted ten women in his life.
For the solo show in Luxembourg he prepared a sensual bouquet where women are in very suggestive poses.
"I don't stick to the word contemporary, I prefer the term modern. I'm more into street art, skateboarding, graffiti. I really want to be my generation. What matters to me is the urgency and action."
Painting does however not summarize the art of Cédrix Crespel. He also likes the design, architecture, photography and he turns in the region with his rock band Belles de jour.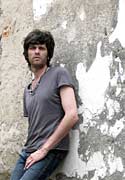 born 1974 in Guérande (France)
lives and works in Guérande
Parcours
- Designer in a Design Office
- Gainier of art
- Painter, Designer, Architect, Photograph, Musician
- Rock guitarist and singer in the
Combo Band "Belles de jour"
Exhibitions, Publications, Concerts
| | | |
| --- | --- | --- |
| 2010 | Affordable Art Fair (AAF), Brussels | Groupe exhibition at stand G5 of Leslie's Artgallery |
| 2009 | Leslie's Artgallery, Bridel, Luxembourg | Solo exhibition (bouquets sensuels, installations, sculptures) |
| 2009 | Galerie Petitjean, Aix en Provence, France | Solo exhibition "Survoltées" |
| 2009 | Blog "Corps sans organes" de Luc Schicharin | Cedrix Cesprel : Sexe, drogue et pornosurveillance |
| 2009 | Galerie Crid'Art, Metz, France | Solo exhibition and rock concert |
| 2009 | Discotheque Floride, Nantes, France | Rock concert "Belles de jour" |
| 2009 | Local "Ferrailleur", Nantes, France | Rock concert "Belles de jour" |
| 2009 | The Affordable Art Fair, Brussels, Belgium | Group exhibition; represented by Galerie Edgar |
| 2008 | Espace d'art contemporain "La Lune en parachute", Epinal, France | Group exhibition |
| 2008 | Blurb, ArtBook of Leslie's Artgallery | Featured Artist |
| 2008 | Foire Européenne St'art, Strasbourg, France | Group exhibition; represented by Galerie Edgar |
| 2008 | Blurb Publication by Galerie Petitjean | Artbook Cedrix Crespel : "Par, pour, sans qui" |
| 2008 | The Affordable Art Fair, London, UK | Group exhibition; represented by Galerie Petitjean |
| 2008 | Galerie Crid'Art, Amnéville les Thermes, France | Group exhibition |
| 2008 | The Affordable Art Fair, Paris, France | Group exhibition; represented by Galerie Edgar |
| 2008 | Foire Européenne St'art, Lille, France | Group exhibition; represented by Galerie Edgar |
| 2008 | Foire d'art contemporain ARTénim, Groble, France | Group exhibition; represented by Galerie Petitjea |
| 2008 | Olivier de Sagazan, St Nazaire, France | Group exhbition; invited artist |
| 2008 | Galerie Petitjean, Aix en Provence, France | Group exhbition |
| 2007 | Foire Européenne St'art, Strasborg, France | Group exhibition; represented by Galerie Edgar |
| 2007 | Galerie Edgar le marchand d'Art, Paris | Solo exhibition |
| 2007 | Centre culturel Athanor, Guérande, France | Solo exhibition "Pink Story" |
| 2006 | Gallery "Art on the Move", Naarden, The Netherlands | Solo exhibition |
| 2006 | Galerie Edgar le marchand d'Art, Paris | Solo exhibition "Glycero" |
| 2005 | Galerie Edgar le marchand d'Art, Paris | Solo exhibition "Petite Madame" |