---
My work develops into a progression of evolving conversations; explores the contradictions and complexities of growing up in the American Midwest and living in today's society as an adult. My rendering of America is one of emotional turmoil and ambiguity. I meld childhood nostalgia and adult dread to produce works that resemble an absurd American theatre.
My love of this country and its pastimes are conflicted with my suspicion of cultural mythology. Through the reintroduction of American archetypes such as cowboys, cheerleaders, and football players, I construct a vernacular that oscillates between satire and homage, inducing the viewer to evaluate their political and cultural affiliations. I engage the audience to question how America's legendary status as liberator and military superpower relates to the debate that we are in a midst of precipitous decline and harrowing collapse.
The athletes are depicted in states of defeat and anguish amidst hollow landscapes, a fitting personification of America's increasingly self-imposed isolation from the international community. Both represent romanticized notions of American masculinity, symbolic agents of conquest and glory. I subvert these figures of strength, by depicting them in states of defeat, confusion, and humiliation.
The conclusion being hardship is part of life. However, one never loses hope of a promising and forgiving future. I strive to re-expose cultural idiosyncrasies that often become too familiar to recognize through the chaos. My artwork asks the viewer to submerge into the depths of their own minds and contemplate the images and ideas we, as Americans, export to the world.
Grant Barnhart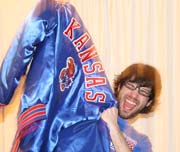 pseudonym Tra Selhtrow
born 1978 in Topeka, Kansas, USA
resides and works in Seattle, Washington
Education
Fine Arts Studies BFA
1996-2000
Columbus College of Art & Design
Exhibitions, Publications, Awards
| | | |
| --- | --- | --- |
| 2010 | Affordable Art Fair (AAF), Brussels | Group exhibition at stand G5 of Leslie's Artgallery |
| 2009 | Ambach & Rice Gallery, Seattle, WA | solo exhibition "Beg For It" |
| 2009 | Baer Ridgway Exhibitions, San Francisco | group exhibition "Dark Americana" |
| 2009 | David B. Smith Gallery, Denver, Colorado | group exhibition |
| 2008 | Artist Trust, Washington State | Fellowship Award |
| 2008 | Vered Art Gallery, East Hampton, NY | group exhibition |
| 2008 | OKOK Gallery, Seattle, WA | group exhibition, "TEXT/URAL" |
| 2008 | Blurb, ArtBook of Leslie's Artgallery | Featured Artist |
| 2008 | OKOK Gallery, Seattle, WA | solo exhibition, "Remember me when" |
| 2008 | The Upset , artbook edited by Gestalten | Featured Artist (Young Contemporary Art) |
| 2008 | Leslie's Artgallery, Bridel, Luxembourg | solo exhibition "Spread Eagle" |
| 2008 | Limited Addiction Gallery Denver, CO | group exhibition with Siamon Chow and AJ Fosik |
| 2007 | Daily Serving, contemporary art forum | interview |
| 2007 | Seattle Post Intelligencer | Column of art critic Regina Hackett about the expo |
| 2007 | OKOK Gallery, Seattle, WA | solo exhibition, "Exact Change" |
| 2007 | Bucheon Gallery, San Francisco, CA | group exhibition "Coping Mechanisms" |
| 2007 | Limited Addiction Gallery Denver, CO | group exhibition, "Elevation" |
| 2007 | Giant Robot Gallery, New York, NY | group exhibition |
| 2007 | Scion Gallery, Los Angeles CA | group exhibition "Life Size" |
| 2007 | Tinlark Gallery, Los Angeles, CA | group exhibition |
| 2007 | Richard Goodall Gallery, Manchester, UK | group exhibition, "New Year" |
| 2006 | Press Club of Cleveland, Ohio | Ohio Journalism Award (Illustration) |
| 2006 | Seattle Post Intelligencer | Column of art critic Regina Hackett about the expo |
| 2006 | Seattle Weekly | Column of Sue Peters about the expo |
| 2006 | OKOK Gallery, Seattle, WA | solo exhibition, "Sincere Intentions" |
| 2006 | Semi-Permanent, Design is Kinky, Sydney | group exhibition, design event |
| 2006 | BLVD Gallery, Seattle, WA | group exhibition, "Groundswell" |
| 2006 | Think Space Gallery, Los Angeles, CA | group exhibition, "Picks of the Harvest" |
| 2006 | Compound Gallery, Portland, OR | group exhibition, "Black and White Drawing Show" |
| 2006 | BLK/MRKT Book One, Los Angeles, CA | publication, pages 138-143 |
| 2006 | BLKMRKT Gallery, Los Angeles, CA | group exhibition, "BMG Artist's Annual" |
| 2006 | Arkitip Magazine 0031 | Presentation "Sound in Print" |
| 2006 | Society of Professional Journalists, IN | Northwest Excellence in Journalism |
| 2006 | Diesel Gallery, New York, NY | group exhibition |
| 2005 | OKOK Gallery, Seattle, WA | solo exhibition, "The Unauthorized Autobiography of Jonathan" |
| 2005 | OKOK Gallery, Seattle, WA | solo exhibition, "Dumb Birds" |
| 2005 | Society of Professional Journalists, IN | Northwest Excellence in Journalism |
| 2005 | Subject Matter Gallery, Los Angeles, CA | group exbition, "Slaughter House" |
| 2005 | Gigantic Gallery, New York, NY | group exbition |
| 2004 | Kirsten Bowen Gallery, Columbus, OH | solo exhibition, "Walking a Fine Line" |
| 2003 | Fuse Gallery, Columbus, OH | group exhibition |
| 2002 | Blue Cube Gallery, Columbus, OH | group exhibition, "illustration cubed" |