---
Digital portfolio
Marc Pierrard is an allround artist, creating not only figurative and abstract paintings, sculptures and prints, but also large installations and great multimedia projects which are presented ih the digital portfolio on his website called "INTERNET HEADQUARTER".
Eat your Picasso (the reminiscence of '68), Modern Conspiracy (a media "performance"), The Schoolyard, Etat des Lieux, Tannhäuser in Paris, Buffet Autricho-Americain, The Comfort of being Afraid, To reduce the choir to one solist, ... are some of the titles of his works realized or planned. Marc Pierrard mixes all available techniques and materials to create his artworks.
Most of the characters in his figurative compositions are taken from the HISTORY of ART, more or less known paintings, that touched the artist in a way or another. He mostly works by "clin d'oeil" or reference, ...knowing the original artworks and the context in which they were created.
The stories around them or the life of the artist(s), is definitly a PLUS in the reading of his work, but not fundamental.
defDUMp
Marc Pierrard is not only interested in paintings and sculptures, but also in sports (swimming), music, photography, movies, theater and literature. He was the guitarist of the luxembourgish progressive / indie / post-hardcore band defDUMp, formed in year 1993, which was one of the most promising hardcore bands from Europe. They have released five studio records - latest of them called "This Is Forevermore" published in year 2007. The band played their farewell final show in Luxembourg in 2008.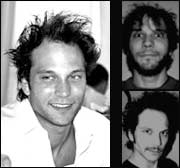 born 1974 in Luxembourg
lives and works in Kayl, Luxembourg
Education
1999, Teacher
Exhibitions, Publications, Awards
| | | |
| --- | --- | --- |
| 2009 | Galerie "Konschthaus beim Engel", Luxembourg | Solo show "La Politesse du Désespoir" |
| 2009 | Leslie's Artgallery, Bridel, Luxembourg | Group show "NEW CONTEMPORARY FIGURATIVE ART" |
| 2009 | Galerie Artmonti, Paris, France | Solo exhibition "Tannhäuser in Paris" |
| 2008 | Galerie Christophe Mafouze, Paris, France | Group exhibition |
| 2007 | Galerie du Théatre, Esch-Alzette, Luxembourg | Solo exhibition "IMPROVISATION ESTIVALE" |
| 2007 | Kulturfabrik, Esch-Alzette, Luxembourg | Group exhibition "OUT OF THE CROWD III" |
| 2007 | Atelier des Roches, Metz, France | Solo exhibition "ALLEGORIES CONTEMPORAINES" |
| 2007 | Restaurant Coco Pazzo, Luxembourg-Ville, Luxembourg | Solo exhibition "MISE EN BOUCHE ARTISTIQUE" |
| 2006 | LTE, Esch-Alzette, Luxembourg | Group exhibition "BENEFIZ SHOW" |
| 2006 | Kulturfabrik, Esch-Alzette, Luxembourg | Group exhibition "OUT OF THE CROWD II" |
| 2005 | LTE, Esch-Alzette, Luxembourg | Group exhibition "BENEFIZ SHOW" |
| 2005 | Centre Culturel, Tuntange, Luxembourg | Group exhibition "FOOD FOR YOUR SENSES" |
| 2004 | Pipeline, Messancy, Belgique | Group exhibition "LIBERATION DAY II" |