---
In my work, I try to push figuration and narrative beyond the boundaries of tradition. In my paintings and works on paper, I often use multi-panel or non-rectangular formats. By breaking out of the conventional picture plane, or expanding within its framework, I can be more inventive.
I create visual, hybrid stories. I always work in series. This allows me to explore my ideas in depth. The pieces in each body of work are like the non-linear chapters of a novel. The genres of portraiture, landscape and still life are often mixed, merged and re-invented in my work. A major theme in my work is an on-going quest for identity in our chaotic world. I am also interested in the interweaving of private and public realms, autobiography and social issues, and fact and fiction.
My content is culled from a wide range of sources: personal and collective history, current events, urban life, family, and nature. My content and imagery comes from my experience of people, places and things. I paint and draw what moves me.
Stuffed Paintings
In these pieces, I make figure silhouettes out of canvas, which I stuff with cotton and sew. I then paint narratives on the facades of each form. Each stuffed painting is a hybrid character, which embodies conflicts, losses and connections between childhood and adult lives.
Jane Zweibel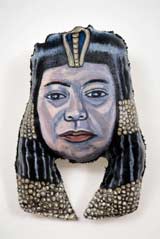 autoportrait Jane Zweibel
born 1959 in Brooklyn, New York
lives and works in Brooklyn, New York
Parcours
MFA in Painting,
Columbia University
, NY
BA in Visual Art,
Bennington College
, VT
Recipient of fellowships from the Virginia Center for the Creative Arts, Skowhegan School of Painting and Sculpture, The Banff Centre for the Arts, and a grant from the Puffin Foundation.
Exhibitions, Publications, Awards
| | | |
| --- | --- | --- |
| 2009/2010 | Leslie's Artgallery, Bridel, Luxembourg | Solo Exhibition |
| 2009 | FiberARTS Magazine, Interweave Press | Featured artist (cover) of the september/october issue 2009 |
| 2009 | West Collection, Oaks, Pennsylvania | Application for the West Prize 2010 |
| 2009 | Chaffers Gallery, Wellington, New Zealand | Featured artist (solo show in 2010) |
| 2008 | Blurb, ArtBook of Leslie's Artgallery | Featured Artist |
| 2008 | Balance Salon, 18 Erie Gallery, Jersey City | A Cut Above the Rest : A Salon of Self-Portraits and Styles (Part II) |
| 2008 | Leslie's Artgallery, Bridel, Luxembourg | Solo Exhibition : Stuffed Paintings |
| 2007 | Midoma Gallery, New York, NY | A Cut Above the Rest : A Salon of Self-Portraits and Styles |
| 2007 | Proteus Gowanus Gallery, Brooklyn, NY | Group exhibition : Play |
| 2006 | New York City Art Cypher, Staten Island, NY | Group exhibition : Dreamscapes |
| 2005 | Project Diversity, Brooklyn, NY | Honorarium Award |
| 2005 | Tabla Rasa Gallery, Brooklyn, NY | Group exhibition : Project Diversity |
| 2005 | Project Room 88, New York, NY | Group Invitational Show |
| 2004 | The Painting Center, New York, NY | Group exhibition : Glass (of) Water |
| 2003 | New York, NY | Creative Capital Workshop Program |
| 2003 | Think Exhibition Space, New York, NY | Group exhibition ; Wombyn: And She Dances |
| 2002 | Tribeca Rooftop Exhibition Space, New York, NY | Solo exhibition : Bare-Foot and Pregnant |
| 2002 | Bronx River Art Center and Gallery, Bronx, NY | Group exhibition ; 911: Artists Respond |
| 2001 | Allen-Stevenson School, New York, NY | Grant Award : Riklis Faculty Fund |
| 2002 | Exit Art, New York, NY | Group exhibition : Reactions |
| 2000 | Pierogi Gallery, Brooklyn, NY | Group exhibition : Flatfiles |
| 2000 | Bronx Museum of the Arts, Bronx, NY | Group exhibition : Good Business is the Best Art |
| 1999 | New Jersey Center for Visual Arts, Summit, NJ | Honorable Mention Award |
| 1999 | New Jersey Center for Visual Arts, NJ | International Juried Show |
| 1999 | David Beitzel Gallery, New York, NY | Group exhibition : A Skowhegan Decade |
| 1997 | 55 Mercer Gallery, New York, NY | Solo exhibition : Self-Portraits in the Third Person |
| 1996 | Virginia Center for the Creative Arts, Sweet Briar, VA | Residency Fellowship |
| 1996 | Mary H. Dana Women Artists Series, Rutgers, NY | Solo Exhibition : Phantom Limbs |
| 1995 | 55 Mercer Gallery, New York, NY | Solo exhibition : Bodies of evidence |
| 1995 | The Transit Museum, New York, NY | Solo exhibition : Personal Passages |
| 1994 | Mercer Gallery, Monroe Community College, Rochester, NY | Solo exhibition : Paintings |
| 1994 | Damon City Center Gallery, Rochester, NY | Solo exhibition : Drawings |
| 1993 | Treasure Room Gallery, The Interchurch Center, New York, NY | Solo exhibition : Wrecollections, From the Habitat |
| 1990 | Merril Hall Exhibition Space, New York, NY | Solo exhibition : Recent Mixed Media Paintings |